I used to be color blind...
Submitted by gwolf on Fri, 04/24/2009 - 12:05
I was contacted today via private e-mail by Rafal Czlonka, as the hackergotchi I use (at least) in Planet Debian is wrongly rendreed by his WebKit-based web browser, Arora. So, in order to get more people to notice the bug if it exists: This is my hackergotchi (copied from Planet Debian, so I can update it and this post still shows a valid one):
And this is the sample he sent me on how it is rendered by Arora - Pay no attention to the horizontal lines (those are taken from the background where it is rendered):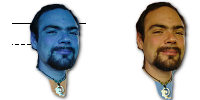 So, is the first image correctly rendered? (I usually have my skin in a pinkish tone, and I was wearing a blue shirt). But, yes, that makes understanding the PNG encoding a bit more interesting. I guess PNG defines hues (as neither of those colors is completely uniform, they both vary slightly depending on the section of the picture)... And for some reason, my hackergotchi (generated by the Gimp) confuses the renderer and makes it switch the hue areas?
(Note that I am tempted to use the corrected version as my hackergotchi.. It looks more interesting!)
[update] I could not resist it... and have uploaded my blue hackergotchi to planet.debian.org - Yes, I'm a smurf now, it's no longer a rendering error.
( categories: