Memes
Submitted by gwolf on Wed, 10/12/2005 - 12:01
Following
Tolimar
,
Kov
,
Noodles
,
Amaya
, and the people who have fallen off the edge of the Planet:
Gunnar needs to stamp images with time when captured
Obviously gunnar needs a world map store and use the information he has gathered
Gunnar needs a box for his blocks
Gunnar needs to finish his clean-ups he planned or I guess already started.
Gunnar needs to develop more body rhythm to advance in this style.
Go rent "Scars Don't Sweat' because Gunnar needs the .003 cents he earns from each rental
Asther and Gunnar need a miracle! Asther needs her healing and Gunnar needs an additional measure of God's strength and grace as he cares for Asther
Gunnar needs your help with Dwellingup data
Scary... Some of them even make sense!
Submitted by gwolf on Fri, 08/12/2005 - 19:26
Well, what can a honest geek do when
he is challenged
?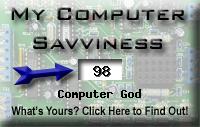 And you? (now, go back to work before anybody notices)
Submitted by gwolf on Tue, 05/03/2005 - 20:16
Wow... Like most people, upon reading the last
Andi's announcement
last week, I decided to go get my bugs - And, yes, I did nice progress... So it was a bit frustrating on one hand to find out today that
Sarge is finally frozen
. Yes, I know we are not supposed to wait until the last minute - But hey, face it, it is a great motivation! ;-) (and, yes, I will contact debian-release regarding a set of changes I did today that closed five bugs, even though non-critical). Now, this blog is syndicated at my
local community
as well - For you guys, what does this freeze mean? No, we have not released Sarge yet. However, we are in a very special period, where the final bugs are squished, aiming to release Sarge in a month. Yes, we are notorious for skipping deadlines, but this time it does look like it. And, believe it or not, we are really into finding a way to get Etch out in less time. Anyway... The freeze by itself deserves a celebration. And very, very soon (by the Debian time standards) we will have a major celebration coming up. I just got an inspiration - I will try to start a...
New meme - New meme - New meme
Where were you when Woody was released?
I remember reading the announcement at a lent terminal, at UNAM's
Computer Security Department
. We still had the (now defunct) Free Software Area next door, and I was a common fixture over there, even if I worked at the
Iztacala campus
, over 1hr away. Funny, today I was there again, after not visiting for many months, presenting an idea for an Admin-UNAM meeting.
Submitted by gwolf on Mon, 01/17/2005 - 10:50
So it turns out I am a big loser, a VERY big nerd and quite a weird guy. Does not really surprise me - Well, I feel happy about being
that
nerdy (and, yes, I answered with the truth) - How the hell did
Steve
,
Alexander
,
Per-Arne
and
Martin
make it? My hat off to you guys! (OTOH, it should not surprise me having that many über-nerds in Debian ;-) )
---
Isaac blogged about
lack of a way of not using possessives
in English, and he says that he thinks that Spanish has the same problem - In theory, yes. In practice, it is even greater. It is very common to hear people say, for example,
su mamá de él (his mother of him)
instead of simply
su mamá (his mother)
, as there is ambiguity between formal-second-person and third person. Yes, that's a mistake and cannot be tolerated in educated circles - but nevertheless, it is very common.
---
My [term]coccyx[/term] still hurts badly since
last Wednesday's fall
. Yesterday I went to have some X-ray shots of my whole column (at US$200, they'd better be worth something!), I'll get them today to a doctor. But at least something good came out of it: I was not in shape to drive there, so Nadezhda took the car for the first time into the wilderness of Mexico City. Congratulations, Cosa! :-D She was so happy and confident she even gave a ride home afterwards to her sister and nieces, who dropped by to visit us.
---
[friend]ion[/friend]: You are
insane
- But
your ideas
rock!
Submitted by gwolf on Tue, 12/28/2004 - 13:32
I wanted to create a little new meme. I posted a world map with visited countries. It was nice. It was good. The meme started to spread... And then the server choked after a deb-slashdotting :-(
Proxy Error The proxy server received an invalid response from an upstream server. The proxy server could not handle the request GET /projects/visitedcountries/. Reason: Could not connect to remote machine: Connection refused
What can I say? Sorry, douweosinga.com :-(