projects
Submitted by gwolf on Mon, 09/03/2012 - 17:35
What, haven't you heard about the WikiLovesMonuments photo contest around cultural heritage? Copying from its web page,
Wiki Loves Monuments is an international photo contest around cultural heritage monuments in September. Starting from the Netherlands in 2010 and organized on a European level in 2011, we go global in 2012!
I heard about this initiative in Iván Martínez's Wikimedia talk at COSIT 2012, held last week in Coatzacoalcos, Veracruz (I intend to write a bit more regarding COSIT later on). I loved the idea, and intend to participate — Not because I take great pictures (I don't, and I usually take them using my aging phone, which gives decent results but nothing beyond that), but because I love to move by bike in the city, and it's one of the best ways to roll in front of some of them. But more on me later… Back to the topic!
WikiLovesMonuments aims to improve on Wikimedia's (the organization behind Wikipedia and several other Free Culture reference projects) coverage of important landmarks all over the world. To do so, they are offering a trip to attend WikiMania 2013 in Hong Kong to the first place winner, and other "photography-related" prizes to the other winners.
So, back to me: My motivation to enter the contest is to help Wikimedia. I know my shots won't be top-notch (although they will be the best I can do). I enjoy biking in my city, and often go not too far from many of the listed monuments. I am amazed at the number of monuments still pending in my area (of course, it's not by mistake this is called "La ciudad de los palacios", The city of the palaces) — Surely some of the readers of this post will have (or will find easy to take) some photos to add. Of course, I'll try to focus on the missing monuments, but if you are a good photographer, you might want to submit a better version for a monument that's already there.
So, some pointers, from what's closest to what's farthest from me:
At least for Mexico, the listings are taken from the National Institute for Anthropology and History (INAH)'s Public registry of archaeological zones and monuments. So, I cannot wait to start my biking session today to get some good end-of-summer evening sun and get some pictures taken! :-D
( categories:
Submitted by gwolf on Fri, 10/28/2011 - 10:41
This is an update to my last post regarding the «Construcción Colaborativa del Conocimiento» book.
The book is, as we have repeatedly stated, available online for download — Both as a full PDF or chapter by chapter. In the website you will also find videos of all of the conferences held.
But holding a printed book in your hands is just a different experience, isn't it? :-) Anyway, I said I would give here an update on how to get your hands on it. The main venue would be through my University's e-store. I recommend it to anybody interested in buying the book in Mexico. The book's list price is MX$300 (around US$27), but it is currently sold at half price — I don't know how long will that price be offered.
On the other hand, we also uploaded it to the lulu.com self-publishing service. Of course, given I have not seen the printed results, I cannot assure you the resulting product will be of the same quality as the one we got here, but I have a couple of books I have bought at lulu, and their quality is quite acceptable. So, you can also buy it from lulu.com. Note the 20% discount it shows will be permanent — That's what I would get as an author, a payment I decided to forefit given we are 11 authors and it would be unfair to collect it all myself. So, the price at lulu.com is US$12.64 plus shipping — Very similar to the price at UNAM.
Enjoy!
Submitted by gwolf on Tue, 10/25/2011 - 19:25
Finally!
Last Friday, after two years worth of work, I finally got the first box of books for the Construcción Colaborativa del Conocimiento (Collaborative Knowledge Construction) project I worked on as a coordinator together with Alejandro Miranda (pooka), and together with a large group of 11 authors: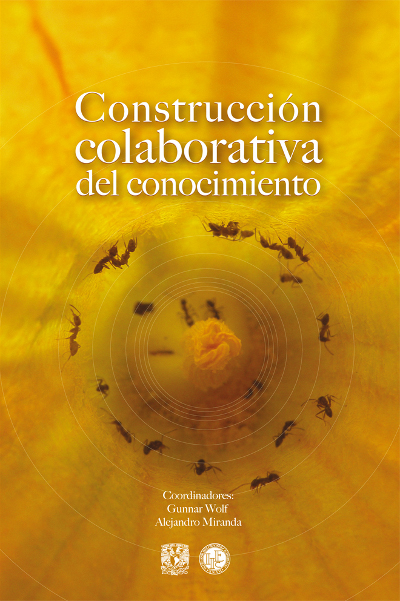 Translating over from the back cover text (and this is just a quick translation from me — It reads better in Spanish ;-) ):
What defines us as humans is our ability, on one side, to
create knowledge, and on the other, to share or communicate it with our neighbors. Both features have worked together over tens of thousands of years, and, working together, have led the knowledge to transcend the individual, avoiding the need to rediscovery or reinvention of is already known. Sharing knowledge is what has taken our species to the dominant role it occupies today.

But knowledge creation and sharing has seen a deep transformation in recent decades, thanks to the quick evolution of telecommunications, specially the massification of Internet and cellular telephony. We are transiting towards the so desired –and at the same time so feared– knowledge society.

In this book, eleven authors from very different disciplinary backgrounds and geographic origins ellaborate on how a hyper-connected world has modified the basic rules of interaction in areas as diverse as artistic creation, social organizations, computer code development, education or the productive sector.

This book is the result of a year worth of work for in the "Collaborative Construction of Knowledge" seminar, during which we
used the same new forms of knowledge production we have studied.

The videos of the sessions, electronic participations and the full contents of this book are available under a permisive license at
http://seminario.edusol.info/seco3/
We will soon have the book ready in IIEc's e-store (which is mostly meant for national requests). I am also uploading the book to the lulu.com self-publishing service, and we are working on a epub-like edition. Right now it is still not available, but it should be there in some days. I will keep you posted.
Meanwhile, the full contents can be read online at http://seminario.edusol.info/seco3
Submitted by gwolf on Tue, 02/24/2009 - 20:26
My attention was just drawn (thanks, Txopi!), slightly less than two days before the kick-off date, that although we have advertised quite thoroughly how to participate in this Thursday's EDUSOL Seminar session (didn't you read about it already?) via the formal videoconferencing channels (wow, we have 14 videoconferencing rooms signed up, w00t!), we have not yet announced how to participate by following the Ogg stream and the IRC channel. So, please:
Ogg stream

Connect to http://seminario.edusol.info:18000/edusol.ogg.m3u. What to connect with? If you are a Linux user, just about any media player will do. If you are not, download the great VLC - VLC for Windows, VLC for MacOS X.

IRC chat

Of course, you might be interested not only on listening to our talk but in participating as well, right? Take your favorite IRC client and enter the #edusol channel in irc.oftc.net. (I won't go into further details on this post on what is or how to enter IRC - But I will explain a bit more in the EDUSOL website, in Spanish, if you need it).
...We are very hurried and excited about this all. Hope to see you there, and during our work sessions for the many following months!
( categories:
Submitted by gwolf on Tue, 02/17/2009 - 17:38
It's time to drive some buzz this way ;-) Although this post will only be a pointer towards the Spanish post I made on Planeta EDUSOL, for reasons soon to become obvious. In any case, the information I'm posting here is not exactly the same. Can you read Spanish? Please go on to the invitation for the first videoconference for the EDUSOL Seminar.
This year, we the organizers of the On-line Encounter of Education and Free Software (EDUSOL) are aiming higher - we are not "just" having a two-week encounter at the end of the year - We are having an all-year-long Seminar, focusing on the collaborative construction of knowledge. People from quite distinct backgrounds will be part of this project, and we aim to drive it towards the publication of a book.
We (mainly, Alejandro Miranda and me) have been quite busy bootstrapping this seminar, getting the proposed authors, thinking over the intended communication channels and ways, and setting up the needed infrastructure) and are ready to start the public-facing activities.
We will be having monthly videoconferencing sessions, the last Thursday each month, 16:00-18:00 Mexico Central time (currently GMT-6; GMT-5 after the beginning of April). The VC sessions will be also relayed through Ogg streams, and we will have an IRC channel available to offer full interactivity for those who do not have access to a H.323 VC setup.
This first session will be moderated by Victor Manuel Martínez; the speakers will be Alejandro Miranda and myself - The topics we will present are:
Short project presentation, delineating the list of invited authors and tematic lines we will pursue
Description of the collaboration scheme we expect to hold, including how everybody (not just invited authors) can participate
Presentation of one of the topics we will work into in the Seminar: Free Software and the Democratic Construction of the Society
If you have access to videoconferencing facilities, please get in touch with Carlos Cruz, the Videoconferences Coordinator at the Economic Research Institute, as soon as possible for all the needed coordination.
( categories: