Not in Switzerland — But still, cheering for Debian's 20th anniversary!
So… Well, contrary to the popular sentiment in Planet Debian, this year I'm very sorry to inform that…
| | |
| --- | --- |
| This is the first DebConf I miss in ten years, so… Yes, it's a big bummer for me. I'm not attending because this year, DebC(amp | onf) coincide with the two first weeks of classes at my university — And as a new teacher, I cannot afford to miss it! |
Anyway, but that should not stand in the way to attend a nice Debian 20th anniversary party!
Parties will be held around the world. (Didn't find your city? Plan something and add it now!). In Mexico City, the nice guys at the very interesting Rancho Electrónico hackerspace took the lead, and organized the following activities: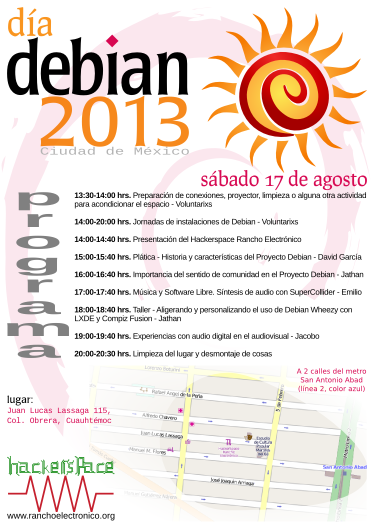 Don't you yet know the hackerspace? You should go there! It's in a very centric location, just two blocks West from Metro San Antonio Abad (Juan Lucas Lassaga 114, col. Obrera). And the only two times I have been there, it has been good fun. Surely this Saturday we can have a nice party as well!
The planned activities are from 13:30 to 20:30. See you there!
Attachments
dia-debian-2013-final-chico.png (143 KB)
dia-debian-2013-final.png (348 KB)
not_going_to_dc13.png (14 KB)
Comments
Robert Yard 2013-08-18 22:19:11
but that should not stand in
but that should not stand in the way to attend a nice Debian 20th anniversary party