Readying up for the second "Embedded Linux" diploma course
I am happy to share here a project I was a part of during last year, that ended up being a complete success and now stands to be repeated: The diploma course on embedded Linux, taught at Facultad de Ingeniería, UNAM, where I'm teaching my regular classes as well.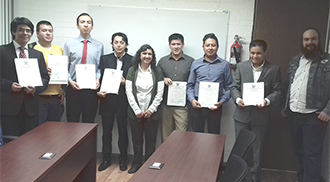 Back in November, we held the graduation for our first 10 students. This photo shows only seven, as the remaining three have already relocated to Guadalajara, where they were hired by Continental, a company that promoted the creation of this specialization program.
After this first excercise, we went over the program and made some adequations; future generations will have a shorter and more focused program (240 instead of 288 hours, leaving out several topics that were not deemed related to the topic or were thoroughly understood by students to begin with); we intend to start the semester-long course in early February. I will soon update here with the full program and promotional material, as soon as I receive it. update (01-19): You can download the promotional information, or go to an (unofficial) URL with the full information. We are close to starting the program, so hurry!
I am specially glad that this course is taught by people I admire and recognize, and a very interesting mix between long-time academic and stemming from my free-software-related friends: From the academic side, Facultad de Ingeniería's professors Laura Sandoval, Karen Sáenz and Oscar Valdez, and from the free-software side, Sandino Araico, Iván Chavero, César Yáñez and Gabriel Saldaña (and myself on both camps, of course ☺)
Attachments
Leaflet for the new edition (455 KB)
Photo of the graduated students (76 KB)
Comments
jacquesromero 2016-02-24 20:35:00
hey thanks to share about
hey thanks to share about that… but i am very eager to know more about that… so please can share some pros and cons of this program.. thanks