EDUSOL
Submitted by gwolf on Fri, 10/20/2017 - 17:31
The online encounter I started together with my friend Pooka twelve years ago (Encuentro en Línea de Educación y Software Libre, Online Encounter of Education and Free Software) was held annually, between 2005 and 2011 if I recall correctly. Then, it went mute on a six year hiatus. This year it came back to life. Congratulations, Pooka, Sheik and crew!
Anyway, this is a multimodal online encounter — They managed to top the experience we had long time ago. As far as I can count, it now spans IRC, Telegram, Twitter, YouTube chat, plus a Google Hangouts → Youtube videoconference... And I am pushing for some other interaction modes to be yet added (i.e. using Meet Jitsi as well as Google Hangouts as the YouTube source)... ... ...
Anyway, between sessions and probably thanks to a typo, I was described as Siempre eres trolerante. I don't know if the person in question wanted to say I'm always trolling or always tolerant, but I like the mix, plus the rant part once it is translated to English.
So, yes, I enjoy being trollerant: I am a ranting troll, but I excercise tolerance towards others. Yay!
( categories:
Submitted by gwolf on Fri, 10/28/2011 - 10:41
This is an update to my last post regarding the «Construcción Colaborativa del Conocimiento» book.
The book is, as we have repeatedly stated, available online for download — Both as a full PDF or chapter by chapter. In the website you will also find videos of all of the conferences held.
But holding a printed book in your hands is just a different experience, isn't it? :-) Anyway, I said I would give here an update on how to get your hands on it. The main venue would be through my University's e-store. I recommend it to anybody interested in buying the book in Mexico. The book's list price is MX$300 (around US$27), but it is currently sold at half price — I don't know how long will that price be offered.
On the other hand, we also uploaded it to the lulu.com self-publishing service. Of course, given I have not seen the printed results, I cannot assure you the resulting product will be of the same quality as the one we got here, but I have a couple of books I have bought at lulu, and their quality is quite acceptable. So, you can also buy it from lulu.com. Note the 20% discount it shows will be permanent — That's what I would get as an author, a payment I decided to forefit given we are 11 authors and it would be unfair to collect it all myself. So, the price at lulu.com is US$12.64 plus shipping — Very similar to the price at UNAM.
Enjoy!
Submitted by gwolf on Tue, 10/25/2011 - 19:25
Finally!
Last Friday, after two years worth of work, I finally got the first box of books for the Construcción Colaborativa del Conocimiento (Collaborative Knowledge Construction) project I worked on as a coordinator together with Alejandro Miranda (pooka), and together with a large group of 11 authors: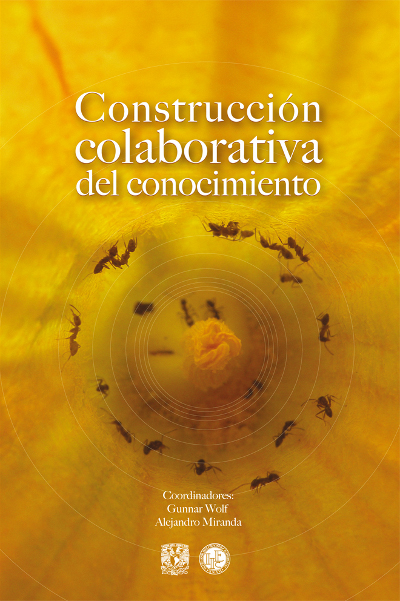 Translating over from the back cover text (and this is just a quick translation from me — It reads better in Spanish ;-) ):
What defines us as humans is our ability, on one side, to
create knowledge, and on the other, to share or communicate it with our neighbors. Both features have worked together over tens of thousands of years, and, working together, have led the knowledge to transcend the individual, avoiding the need to rediscovery or reinvention of is already known. Sharing knowledge is what has taken our species to the dominant role it occupies today.

But knowledge creation and sharing has seen a deep transformation in recent decades, thanks to the quick evolution of telecommunications, specially the massification of Internet and cellular telephony. We are transiting towards the so desired –and at the same time so feared– knowledge society.

In this book, eleven authors from very different disciplinary backgrounds and geographic origins ellaborate on how a hyper-connected world has modified the basic rules of interaction in areas as diverse as artistic creation, social organizations, computer code development, education or the productive sector.

This book is the result of a year worth of work for in the "Collaborative Construction of Knowledge" seminar, during which we
used the same new forms of knowledge production we have studied.

The videos of the sessions, electronic participations and the full contents of this book are available under a permisive license at
http://seminario.edusol.info/seco3/
We will soon have the book ready in IIEc's e-store (which is mostly meant for national requests). I am also uploading the book to the lulu.com self-publishing service, and we are working on a epub-like edition. Right now it is still not available, but it should be there in some days. I will keep you posted.
Meanwhile, the full contents can be read online at http://seminario.edusol.info/seco3
Submitted by gwolf on Tue, 11/10/2009 - 18:41
As some of you know, yesterday we started the two weeks of activities for the Fifth On-line Encounter of Free Education, Culture and Software. This year, the main topic for the conference is social networks, but not in the twitter-facebook sense — Social networks as ways of understanding and modelling human-to-human interactions. Of course, there is interest from many attendees in using and taking advantage of said social network systems (and others), but the topic is far broader.
One of the core tools of EDUSOL, and the only tool that is constantly active through our two weeks of activity, is IRC — Which is somewhat of a challenge, as we receive some not-tech-savvy users from all over the world. The first year or two we asked everybody to connect via an IRC client (and we had even decided that it would be a technological filter — We thought we would not cater for people without the technical skills to install and use IRC). Life proved us wrong, and we ended up using two web-to-IRC gateways: One of them, via an instance of CGI:IRC, and the other one via a third-party service, Mibbit.
Now, the core mind behind EDUSOL is Alejandro Miranda, Pooka; I am not really into education (it is a very interesting topic but far from what I am good at). Pooka has been invovled in on-line communities analysis for several years already, since we worked together at FES Iztacala. For a long time he wanted to graph the interactions at EDUSOL, which was obviously possible given it was all centered on three tools (IRC for live chat, Drupal for generic information and Moodle for the talks and workshops' material — This has changed this year, as we are giving much more weight to Drupal and taking it off Moodle), and so last year he was finally able to generate a «EDUSOL 2008 conference photo (warning: 2MB image, 4311x3352px), where each person's avatar appears where most of his interactions were. This photo was (unfortunately) achieved using non-free software, but is very much looking at!
Now, this year Pooka stumbled upon a great tool, PieSpy (available in Debian — package piespy). Piespy generates very interesting interaction graph for IRC channels, as you can see here: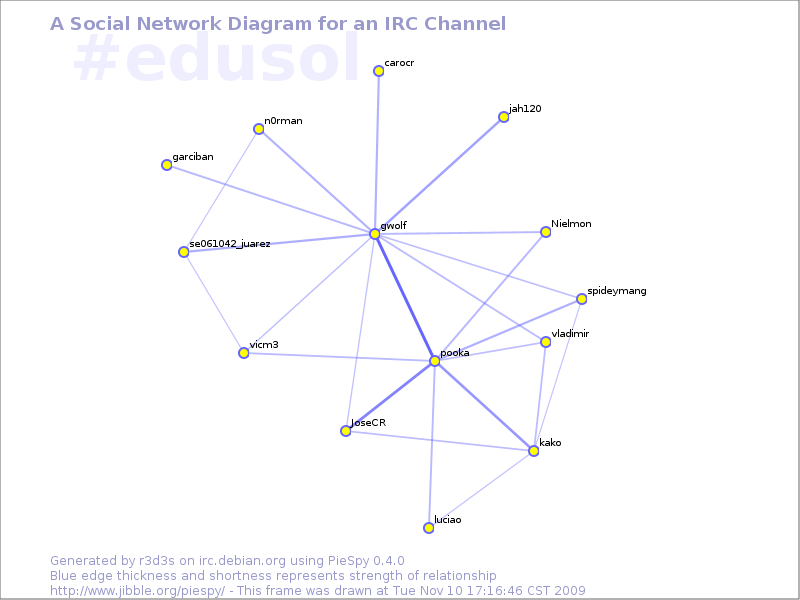 Piespy is a bot that sits in the IRC channel logging everything that any given user "says" directly to another one, and graphs it. Not much to say here, only that it generates a very good (and practically real-time) view of what happens on the channel. For this particular channel, and during EDUSOL, you can see here the latest IRC snapshots.
Very fun to see - and somewhat addictive how it morphs across time :)
( categories: