crypto
Submitted by gwolf on Thu, 11/17/2016 - 14:24
At the beginning of this year, Irene Soria invited me to start a series of talks on the topic of hacker ethics, security and surveillance. I presented a talk titled Cryptography and identity: Not everything is anonymity.
The talk itself is recorded and available in archive.org (sidenote: I find it amazing that Universidad del Claustro de Sor Juana uses archive.org as their main multimedia publishing platform!)
But as part of this excercise, Irene invited me to write a chapter for a book covering the series. And, yes, she delivered!
So, finally, we will have the book presentation: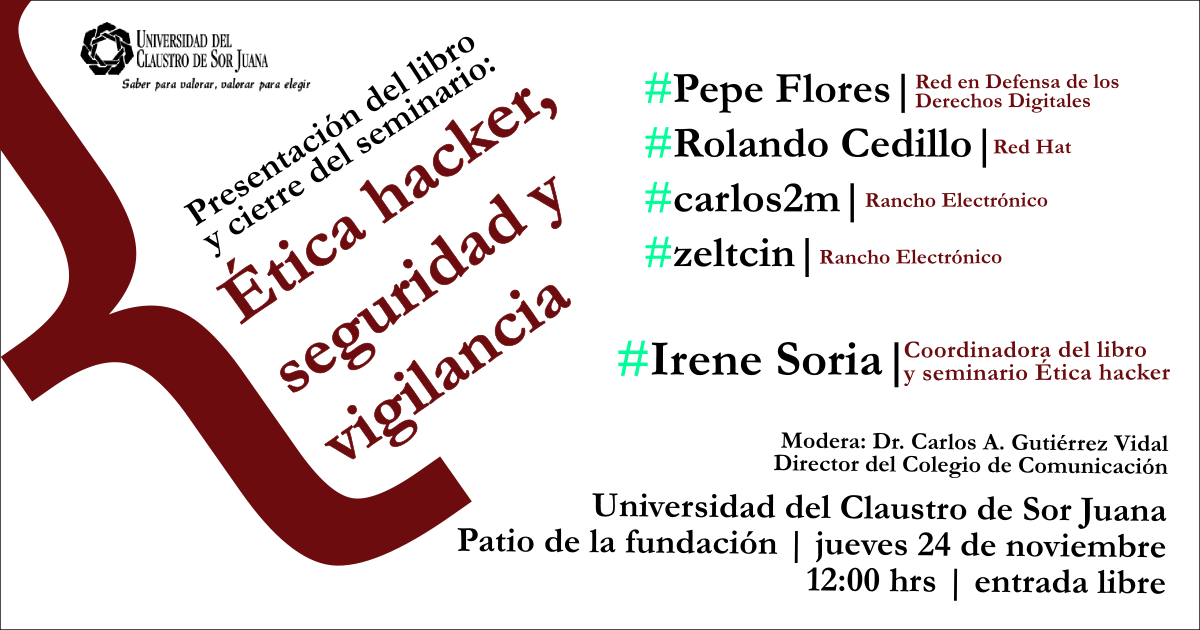 I know, not everybody following my posts (that means... Only those at or near Mexico City) will be able to join. But the good news: The book, as soon as it is presented, will be published under a CC BY-SA license. Of course, I will notify when it is ready.
Submitted by gwolf on Fri, 06/03/2016 - 14:03
Debian is quite probably the project that most uses a OpenPGP implementation (that is, GnuPG, or gpg) for many of its internal operations, and that places most trust in it. PGP is also very widely used, of course, in many other projects and between individuals. It is regarded as a secure way to do all sorts of crypto (mainly, encrypting/decrypting private stuff, signing public stuff, certifying other people's identities). PGP's lineage traces back to Phil Zimmerman's program, first published in 1991 — By far, not a newcomer
PGP is secure, as it was 25 years ago. However, some uses of it might not be so. We went through several migrations related to algorithmic weaknesses (i.e. v3 keys using MD5; SHA1 is strongly discouraged, although not yet completely broken, and it should be avoided as well) or to computational complexity (as the migration away from keys smaller than 2048 bits, strongly prefering 4096 bits). But some vulnerabilities are human usage (that is, configuration-) related.
Today, Enrico Zini gave us a heads-up in the #debian-keyring IRC channel, and started a thread in the debian-private mailing list; I understand the mail to a private list was partly meant to get our collective attention, and to allow for potentially security-relevant information to be shared. I won't go into details about what is, is not, should be or should not be private, but I'll post here only what's public information already.
What are short and long key IDs?
I'll start by quoting Enrico's mail:
there are currently at least 3 ways to refer to a gpg key: short key ID (last 8 hex digits of fingerprint), long key ID (last 16 hex digits) and full fingerprint. The short key ID used to be popular, and since 5 years it is known that it is computationally easy to generate a gnupg key with an arbitrary short key id.

A mitigation to this is using "keyid-format long" in gpg.conf, and a better thing to do, especially in scripts, is to use the full fingerprint to refer to a key, or just ship the public key for verification and skip the key servers.

Note that in case of keyid collision, gpg will download and import all the matching keys, and will use all the matching keys for verifying signatures.
So... What is this about? We humans are quite bad at recognizing and remembering randomly-generated strings with no inherent patterns in them. Every GPG key can be uniquely identified by its fingerprint, a 128-bit string, usually encoded as ten blocks of four hexadecimal characters (this allows for 160 bits; I guess there's space for a checksum in it). That is, my (full) key's signature is:
AB41 C1C6 8AFD 668C A045  EBF8 673A 03E4 C1DB 921F
However, it's quite hard to recognize such a long string, let alone memorize it! So, we often do what humans do: Given that strong cryptography implies a homogenous probability distribution, people compromised on using just a portion of the key — the last portion. The short key ID. Mine is then the last two blocks (shown in boldface): C1DB921F. We can also use what's known as the long key ID, that's twice as long: 64 bits. However, while I can speak my short key ID on a single breath (and maybe even expect you to remember and note it down), try doing so with the long one (shown in italics above): 673A03E4C1DB921F. Nah. Too much for our little, analog brains.
This short and almost-rememberable number has then 32 bits of entropy — I have less than one in 4,000,000,000 chance of generating a new key with this same short key ID. Besides, key generation is a CPU-intensive operation, so it's quite unlikely we will have a collision, right?
Well, wrong.
Previous successful attacks on short key IDs
Already five years ago, Asheesh Laroia migrated his 1024D key to a 4096R. And, as he describes in his always-entertaining fashion, he made his computer sweat until he was able to create a new key for which the short key ID collided with the old one.
It might not seem like a big deal, as he did this non-maliciously, but this easily should have spelt game over for the usage of short key IDs. After all, being able to generate a collision is usually the end for cryptographic systems. Asheesh specifically mentioned in his posting how this could be abused.
But we didn't listen. Short key IDs are just too convenient! Besides, they allow us to have fun, can be a means of expression! I know of at least two keys that would qualify as vanity: Obey Arthur Liu's 0x29C0FFEE (created in 2009) and Keith Packard's 0x00000011 (created in 2012).
Then we got the Evil 32 project. They developed Scallion, started (AFAICT) in 2012. Scallion automates the search for a 32-bit collision using GPUs; they claim that it takes only four seconds to find a collision. So, they went through the strong set of the public PGP Web of Trust, and created a (32-bit-)colliding key for each of the existing keys.
And what happened now?
What happened today? We still don't really know, but it seems we found a first potentially malicious collision — that is, the first "nonacademic" case.
Enrico found two keys sharing the 9F6C6333 short ID, apparently belonging to the same person (as would be the case of Asheesh, mentioned above). After contacting Gustavo, though, he does not know about the second — That is, it can be clearly regarded as an impersonation attempt. Besides, what gave away this attempt are the signatures it has: Both keys are signed by what appears to be the same three keys: B29B232A, F2C850CA and 789038F2. Those three keys are not (yet?) uploaded to the keyservers, though... But we can expect them to appear at any point in the future. We don't know who is behind this, or what his purpose is. We just know this looks very evil.
Now, don't panic: Gustavo's key is safe. Same for his certifiers, Marga, Agustín and Maxy. It's just a 32-bit collision. So, in principle, the only parties that could be cheated to trust the attacker are humans, right?
Nope.
Enrico tested on the PGP pathfinder & key statistics service, a keyserver that finds trust paths between any two arbitrary keys in the strong set. Surprise: The pathfinder works on the short key IDs, even when supplied full fingerprints. So, it turns out I have three faked trust paths into our impostor.
What next?
There are several things this should urge us to do.
First of all, configure your local GPG to never show you short IDs. This is done by adding the line keyid-format 0xlong to ~/.gnupg/gpg.conf.

I just checked both in /usr/share/gnupg/options.skel and /usr/share/gnupg2/gpg-conf.skel, and that setting is not yet part of the packages' defaults. I'll check a bit deeper and file bugs right away if needed!

Have you written or maintained any program that deals with GPG keys in any way? Make sure it specifies --keyid-format long or 0xlong in any relevant call. It might even be better to use the machine-oriented representation instead: --with-colons.

...Of course, your computer will not feel tired or confused at comparing 160-bit full fingerprints instead of 64-bit long IDs, so it's better if our scripts use the full version for everything.

Only sign somebody else's key if you see and verify its full fingerprint (this is not a new issue, but given we are talking about it, and that DebConf is around the corner, and that we will have a KSP as usual...)
And there are surely many other important recommendations. But this is a good set of points to start with.
[update] I was pointed at Daniel Kahn Gillmor's 2013 blog post, OpenPGP Key IDs are not useful. Daniel argues, in short, that cutting a fingerprint in order to get a (32- or 64-bit) short key ID is the worst of all worlds, and we should rather target either always showing full fingerprints, or not showing it at all (and leaving all the crypto-checking bits to be done by the software, as comparing 160-bit strings is not natural for us humans).
[update] This post was picked up by LWN.net. A very interesting discussion continues in their comments.
Submitted by gwolf on Thu, 08/28/2014 - 10:04
I love to see there is a lot of crypto discussions going on at DebConf. Maybe I'm skewed by my role as keyring-maint, but I have been involved in more than one discussion every day on what do/should signatures mean, on best key handling practices, on some ideas to make key maintenance better, on how the OpenPGPv4 format lays out a key and its components on disk, all that. I enjoy some of those discussions pose questions that leave me thinking, as I am quite far from having all answers.
Discussions should be had face to face, but some start online and deserve to be answered online (and also pose opportunity to become documentation). Simon Josefsson blogs about The case for short OpenPGP key validity periods. This will be an important issue to tackle, as we will soon require keys in the Debian keyring to have a set expiration date (surprise surprise!) and I agree with Simon, setting an expiration date far in the future means very little.
There is a caveat with using, as he suggests, very short expiry periods: We have a human factor sitting in the middle. Keyring updates in Debian are done approximately once a month, and I do not see the period shortening. That means, only once a month we (currently Jonathan McDowell and myself, and we expect to add Daniel Kahn Gillmor soon) take the full changeset and compile a new keyring that replaces the active one in Debian.
This means that if you have, as Simon suggests, a 100-day validity key, you have to remember to update it at least every 70 days, or you might be locked out during the days it takes us to process it.
I set my expiration period to two years, although I might shorten it to only one. I expect to add checks+notifications before we enable this requirement project-wide (so that Debian servers will mail you when your key is close to expiry); I think that mail can be sent at approximately [expiry date - 90 days] to give you time both to you and to us to act. Probably the optimal expiration periods under such conditions would be between 180 and 365 days.
But, yes, this is by far not yet a ruling, but a point in the discussion. We still have some days of DebConf, and I'll enjoy revising this point. And Simon, even if we correct some bits for these details, I'd like to have your permission to use this fine blog post as part of our documentation!
(And on completely unrelated news: Congratulations to our dear and very much missed friend Bubulle for completely losing his sanity and running for 28 hours and a half straight! He briefly describes this adventure when it was about to start, and we all want him to tell us how it was. Mr. Running French Guy, you are amazing!)
Submitted by gwolf on Mon, 06/16/2014 - 19:54
So, after writing my last blog post in frustration, several people knowing their way around Tor better than me wrote that I should just configure my machine not to be an exit relay, but a middle relay or a bridge.
So, I set it up to be a bridge about five days ago. And, as they pointed out, I have not experienced any problems.
Interesting: The traffic pattern is very different. Compare:
Traffic pattern as an exit relay:

Traffic pattern as a bridge:


Anyway — I'm happy to have Lobazal back online!
Submitted by gwolf on Tue, 06/10/2014 - 12:07
Some days ago, I bit the bullet and accepted the Tor Challenge.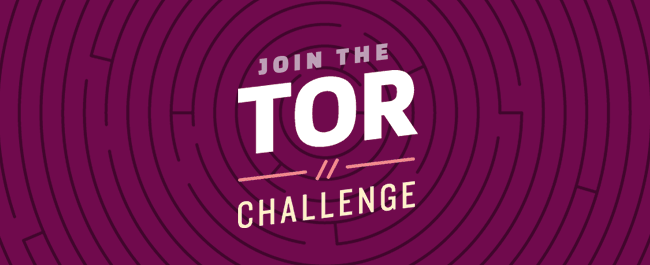 Sadly, after only four days of having a Tor relay node happily sitting at home (and, of course, giving a nice function to this little friend). The inconveniences were too many.
I understand anonimity can be used for many nefarious things, but I was surprised and saddened to see the amount of blocking services. Most notorious to me were the Freenode IRC network, friendly home to many free software projects, and the different Wikimedia projects, which ban editting from IP addresses idenitfied as Tor relays.
I'm saddened to say that, while I could perfectly survive (and even be a bit proud about supporting a project I believe in) by jumping through some hoops (i.e. by setting up a SOCKS over ssh tunnel to my office to do my Wikipedia edits while at home), after only four days, I decided to shut down my relay.
And the main reason... Was something I'm not going to fight against. And it's not even from a nice, friendly free software project.
One thing I am not willing to part with is the one tool that keeps my wife well in contact with her friends and family back in Argentina. Yes, I know I could set up one or many different flavors of SIP or Jabber-based VoIP for her — But it's also her parents, brother, sisters, and friends who use Skype. So, Skype's banning of Tor relay nodes made me decide to shut down my relay.
Sigh... And for somebody obsessed with graphing stuff, this is the graph of the short lifespan of the "Lobazal" Tor node:
[update] I will do another blog post. Good news: My Tor node is alive again! Just no longer as an exit relay, as properly pointed out by many, but as a Tor bridge.
Submitted by gwolf on Thu, 06/05/2014 - 23:20
I must echo John Sullivan's post: GPG keysigning and government identification.
John states some very important reasons for people everywhere to verify the identities of those parties they sign GPG keys with in a meaningful way, and that means, not just trusting government-issued IDs. As he says, It's not the Web of Amateur ID Checking. And I'll take the opportunity to expand, based on what some of us saw in Debian, on what this means.
I know most people (even most people involved in Free Software development — not everybody needs to join a globally-distributed, thousand-people-strong project such as Debian) are not that much into GPG, trust keyrings, or understand the value of a strong set of cross-signatures. I know many people have never been part of a key-signing party.
I have been to several. And it was a very interesting experience. Fun, at the beginning at least, but quite tiring at the end. I was part of what could very well constitute the largest KSP ever in DebConf5 (Finland, 2005). Quite awe-inspiring — We were over 200 people, all lined up with a printed list on one hand, our passport (or ID card for EU citizens) in the other. Actwally, we stood face to face, in a ribbon-like ring. And, after the basic explanation was given, it was time to check ID documents. And so it began.
The rationale of this ring is that every person who signed up for the KSP would verify each of the others' identities. Were anything fishy to happen, somebody would surely raise a voice of alert. Of course, the interaction between every two people had to be quick — More like a game than like a real check. "Hi, I'm #142 on the list. I checked, my ID is OK and my fingerprint is OK." "OK, I'm #35, I also printed the document and checked both my ID and my fingerprint are OK." The passport changes hands, the person in front of me takes the unique opportunity to look at a Mexican passport while I look at a Somewhere-y one. And all is fine and dandy. The first interactions do include some chatter while we grab up speed, so maybe a minute is spent — Later on, we all get a bit tired, and things speed up a bit. But anyway, we were close to 200 people — That means we surely spent over 120 minutes (2 full hours) checking ID documents. Of course, not all of the time under ideal lighting conditions.
After two hours, nobody was checking anything anymore. But yes, as a group where we trust each other more than most social groups I have ever met, we did trust on others raising the alarm were anything fishy to happen. And we all finished happy and got home with a bucketload of signatures on. Yay!
One year later, DebConf happened in Mexico. My friend Martin Krafft tested the system, perhaps cheerful and playful in his intent — but the flaw in key signing parties such as the one I described he unveiled was huge: People join the KSP just because it's a social ritual, without putting any thought or judgement in it. And, by doing so, we ended up dilluting instead of strengthening our web of trust.
Martin identified himself using an official-looking ID. According to his recount of the facts, he did start presenting a German ID and later switched to this other document. We could say it was a real ID from a fake country, or that it was a fake ID. It is up to each person to judge. But anyway, Martin brought his Transnational Republic ID document, and many tens of people agreed to sign his key based on it — Or rather, based on it plus his outgoing, friendly personality. I did, at least, know perfectly well who he was, after knowing him for three years already. Many among us also did. Until he reached a very dilligent person, Manoj, that got disgusted by this experiment and loudly denounced it. Right, Manoj is known to have strong views, and using fake IDs is (or, at least, was) outside his definition of fair play. Some time after DebConf, a huge thread erupted questioning Martin's actions, as well as questioning what do we trust when we sign an identity document (a GPG key).
So... We continued having traditional key signing parties for a couple of years, although more carefully and with more buzz regarding these issues. Until we finally decided to switch the protocol to a better one: One that ensures we do get some more talk and inter-personal recognition. We don't need everybody to cross-sign with everyone else — A better trust comes from people chatting with each other and being able to actually pin-point who a person is, what do they do. And yes, at KSPs most people still require ID documents in order to cross-sign.
Now... What do I think about this? First of all, if we have not ever talked for at least enough time for me to recognize you, don't be surprised: I won't sign your key or request you to sign mine (and note, I have quite a bad memory when it comes to faces and names). If it's the first conference (or social ocassion) we come together, I will most likely not look for key exchanges either.
My personal way of verifying identities is by knowing the other person. So, no, I won't trust a government-issued ID. I know I will be signing some people based on something other than their name, but hey — I know many people already who live pseudonymously, and if they choose for whatever reason to forgo their original name, their original name should not mean anything to me either. I know them by their pseudonym, and based on that pseudonym I will sign their identities.
But... *sigh*, this post turned out quite long, and I'm not yet getting anywhere ;-)
But what this means in the end is: We must stop and think what do we mean when we exchange signatures. We are not validating a person's worth. We are not validating that a government believes who they claim to be. We are validating we trust them to be identified with the (name,mail,affiliation) they are presenting us. And yes, our signature is much more than just a social rite — It is a binding document. I don't know if a GPG signature is legally binding anywhere (I'm tempted to believe it is, as most jurisdictions do accept digital signatures, and the procedure is mathematically sound and criptographically strong), but it does have a high value for our project, and for many other projects in the Free Software world.
So, wrapping up, I will also invite (just like John did) you to read the E-mail self-defense guide, published by the FSF in honor of today's Reset The Net effort.
( categories:
Submitted by gwolf on Wed, 09/22/2010 - 13:36
This morning, my laptop was stolen from my parked car while I was jogging. I do not want to make a big deal out of it.
Still, even though I am sure it was not targetted at my data (three other people at least were reporting similar facts in the same area), and the laptop's disk will probably just be reformatted, I am trying to limit the possible impact of my cryptographic identification being in somebody else's hands.
GPG makes it easy: I had on that machine just my old 1024D key, so it is just matter of generating a revocation certificate. I have done that, and uploaded it to the SKS keyservers - Anyway, here is my revocation certificate:

-----BEGIN PGP PUBLIC KEY BLOCK-----
Version: GnuPG v1.4.10 (GNU/Linux)
Comment: A revocation certificate should follow

iHIEIBEIADIFAkyaOZwrHQJBIGNvbXB1dGVyIGNvbnRhaW5pbmcgdGhpcyBrZXkg
d2FzIHN0b2xlbgAKCRDYDvNai7UnrzWAAKC34eF76JQjxrZqSjNwcC0dU/5VbACg
gMIMmYg91Sl3y8KsZXdGj/rV7UE=
=rdlT
-----END PGP PUBLIC KEY BLOCK-----

But… What worries me more is access to the computers my ssh key works for. Yes, the ssh key uses a nontrivial passphrase, but still — SSH keys cannot be revoked (and this makes sense, as SSH should not add the delay, or potential impossibility, to check with a remote infrastructure whenever you want to start a session).
So, I generated a new key (and stored it at ~/.ssh/id_rsa.new / ~/.ssh/id_rsa.new.pub) and came up with this snippet:
$ 

OLDKEY=

xyHywJuHD3nsfLh03G1TqUEBKSj6NlzMfB1T759haoAQ

$ 

for

 host 

in

 $

(

cat

 .

ssh

/

known_hosts 

|

 

cut

 -f 

1

 -d \ 

|

cut -f 

1

 -d , 

|

    ssh-copy-

id

 -i .

ssh

/

id_rsa.new.pub 

$host

 

&&

 

    

ssh

 

$host

 

"perl -n -i -e 'next if /$OLDKEY/;print' .ssh/authorized_keys"
Points about it you might scratch your head about:
.ssh/known_hosts' lines start with the server's name (or names, if more than one, comma-separated), followed by the key algorithm and the key fingerprint (space-separated). That's the reason for the double cut – It could probably be better using a regex-enabled thingy understanding

/

[

,

]

/

, but... I didn't think of that. Besides, the savings would be just for academic purposes ;-)
I thought about not having the ssh line conditionally depend on ssh-copy-id. But OTOH, this makes sure I only try to remove the old key from the servers it is present on, and that I don't start sending my new key everywhere just for the sake of it.
my $OLDKEY (declared in Shell, and only literally interpolated in the Perl one-liner below) contains the final bits of my old key. It is long enough for me not to think I'm risking collision with any other key. Why did I choose that particular length? Oh, it was a mouse motion.
perl -n -i -e is one of my favorite ways to invoke perl. -i means in-line editing, it allows me to modify a file on the fly. This line just skips (removes) any keys containing $OLDKEY; -n tells it to loop all the lines over the provided program (and very similarly, -p would add a print at the end – Which in this particular ocassion, I prefer not to have). It is a sed lookalike, if you wish, but with a full Perl behind.
Caveats:
This assumes you have set HashKnownHosts: no in your .ssh/config. It is a tradeoff, after all – I use a lot tab-expansion (via bash_completion) for hostnames, so I do have the fully parseable list of hosts I have used on each of my computers.
I have always requested my account names to be gwolf. If you use more than one username... well, you will have to probably do more than one run of it connecting to foo@$host instead.
Although most multiuser servers stick to the usual port 22, many people change the ports (me included) either because they perceive concealing them gives extra security, or (as in my case) because they are fed up with random connection attempts. Those hosts are stored as [hostname]:port (i.e. [foo.gwolf.org]:22000). Of course, a little refinement takes care of it all.,/li>
Oh, I am not storing results... I should, so for successive runs I won't try to connect to a system I already did, or that already denied me access. Why would I want to? Because some computers are not currently turned on. So I'll run this script at least a couple of times.
Oh, by the way: If you noticed me knocking on your SSH ports... please disregard. Possibly at some point I connected to that machine to do something, or it landed in my .ssh/known_hosts for some reason. I currently have 144 hosts registered. I am sure I triggered at least one raised eyebrow.
And I will do it from a couple of different computers, to make it less probable that I miss some I have never connected from while at the particular computer I am sitting at right now.
So... Any ideas on how to make this better?
( categories: