Getting ready for DebConf17 in Montreal!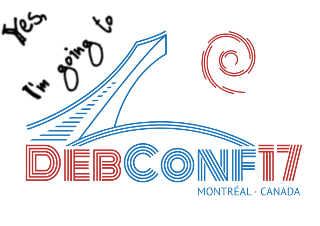 (image shamelessly copied from Noodles' Emptiness)
This year I will only make it to DebConf, not to DebCamp. But, still, I am very very happy and excited as the travel date looms nearer! I have ordered some of the delicacies for the Cheese and Wine party, signed up for the public bicycle system of Montreal, and done a fair share of work with the Content Team; finally today we sent out the announcement for the schedule of talks. Of course, there are several issues yet to fix, and a lot of things to do before traveling… But, no doubt about this: It will be an intense week!
Oh, one more thing while we are at it: The schedule as it was published today does not really look like we have organized stuff into tracks — But we have! This will be soon fixed, adding some color-coding to make tracks clearer on the schedule.
This year, I pushed for the Content Team to recover the notion of tracks as an organizative measure, and as something that delivers value to DebConf as a whole. Several months ago, I created a Wiki page for the DebConf tracks, asking interested people to sign up for them. We currently have the following tracks registered:
Blends

Andreas Tille

Debian Science

Michael Banck

Cloud and containers

Luca Filipozzi

Embedded

Pending

Systems administration, automation and orchestation

Pending

Security

Gunnar Wolf
We have two tracks still needing a track coordinator. Do note that most of the tasks mentioned by the Wiki have already been carried out; what a track coordinator will now do is to serve as some sort of moderator, maybe a recurring talkmeister, ensuring continuity and probably providing for some commentary, giving some unity to its sessions. So, the responsibilities for a track coordinator right now are quite similar to what is expected for video team volunteers — but to a set of contiguous sessions.
If you are interested in being the track coordinator/moderator for Embedded or for Systems administration, automation and orchestation or even to share the job with any of the other, registered, coordinators, please speak up! Mail content@debconf.org and update the table in the Wiki page.
See you very soon in Montreal!
Attachments
dc17.png (38 KB)