Finally, a sensible increase in participation for Tor in Mexico!
/Known fact: Latin America's share of participation in different aspects of the free software movement is very low.
There are many hypotheses for this, but all in all, it's mainly economics related: Only a tiny minority of us in this geographic region can spare the time, energy and money needed to donate part of our work and life to a project, no matter how much we agree with it. Of course, this cannot explain it wholly; there are many issues that further contribute with this low participation. Free software development is mostly carried out in English (much more so even than programming in general, although basically any programing language "reeks" of English).
In mid-2017, the Tor project acknowledged this and created the Global South Initiative. At first, I heard about it when the global-south@lists.torproject.org mailing list was started, and started interacting there right away. Roughly a month later, we started to plan for what is now our research/documentation project. We even managed to somehow attract the Tor community at large for the Tor Meeting last September/October in Mexico City (which was a great opportunity!)
One of the issues we have been pushing for, with marginal success rate until very recently, is to get more people involved running Tor relays or, if possible, exit nodes. Of course, when I asked officially for permission to set up an exit node at the university (I want to do things the right way), I was right away slammed and denied.
But… Patience, time, hardware donation by Derechos Digitales, and some determination have led us to the fact that… 18 months ago, we only had one or two active Tor relays. Now, the reality is finally changing!
Thanks to many individuals willing to donate their time and resources, we currently have eleven relays (eight of them which I can recognize by name and thank their respective owners — The linked page will probably give different results, as it varies over time).
As for the diversity this brings to the network, it's well summed up by the aggregated search: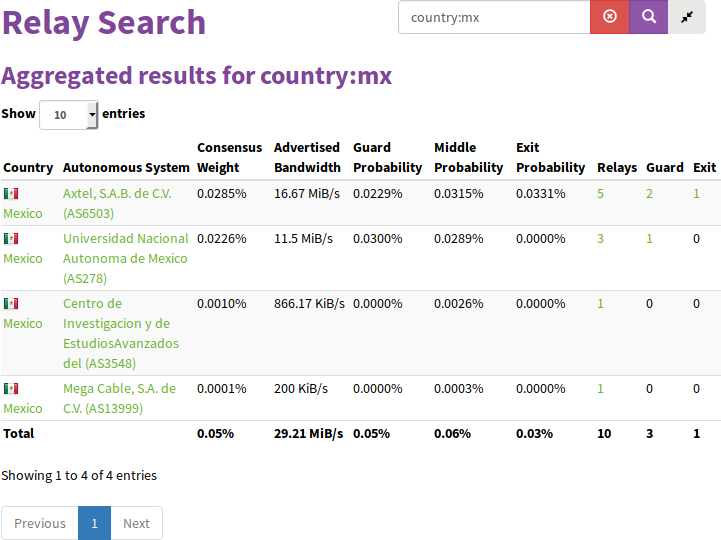 Four autonomous systems; the only ISP that's usable for home users we have been able to identify is Axtel, with which we have five relays currently running; three at UNAM, the biggest university in the country; one in CINVESTAV, an important research facility; finally, one in Mega Cable, which surprises me, as Mega Cable does not provide a reachable IP for any of the subscribers we have probed! (Maybe it's run by corporate users or something like that?)
And, very notably: I have to recognize and thank our friends at Red en Defensa de los Derechos Digitales (R3D), as they have set up our –so far– only exit node (via the Axtel ISP). Wow!
Ten relays, mind you, is still a tiny contribution. Due to the bandwidth we are currently able to offer (and many many many other factors I cannot go into details, as I don't even know them all), Mexico as a country is currently providing approximately 0.05% (that is, one out of each 2000) Tor connections as a guard (entry) node, a slightly higher amount as a middle node, and a slightly lower amount as an exit node. But it is steadily increasing, and that's great!
Attachments
aggr_relays.png (52 KB)
relays.png (85 KB)